What is a Memorial Estate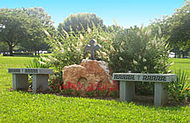 A complete Memorial Estate consists of the
Site
,
Liner or Vault
, Liner or Vault
Installation charge
,
Interment fee
(the opening and closing of the grave) and a
Memorial Marker on a Granite base
. In short: it is everything needed to complete a burial and place a memorial marker on the gravesite.
The Grecian Garden in Block A
What is Required to accomplish a Burial?
The items
required
to have a burial consists of the
site
, the
liner
or vault, and the
interment
(the opening and closing of the grave). A liner or a vault is a requirement of the cemetery. (A vault is heavier with a sealed lid). The memorial marker can be added later.
Memorial Markers
In Norbeck, most
Memorial Markers
are flat bronze plaques, mounted flush to the ground which can be purchased from the cemetery. However some areas (Block A, and U) permit "upright" granite stones. All memorial markers require a granite base (with sawed sides), and upright markers are placed upon a concrete foundation.
Burial Options in Norbeck
Purchase one site, liner or vault and a bronze memorial marker 24"x14" on a granite base 28X18".

Purchase Two side-by-side sites, and a liner or vault. The bronze memorial marker (for two) can be either 44" x 13" or 44" x 14". The granite base is 48" x 18".

Purchase a Double Depth site. A double depth site requires a two tier crypt which can be purchased from the cemetery. A two tier crypt is used to put one interment on top of another. If a family wishes this type of burial a Double Depth site must be purchased before the first interment. The bronze marker is 16"x24", the granite base is 20"x 28".

Cremation options: Cremations can be in ground or in a Columbarium Niche. In-ground cremations require a cremation vault. The in-ground bronze marker is 11 1/2"x11 1/2", the granite base is 15 1/2"x15 1/2". The Columbarium Niche does not have a bronze, it requires incising. Please note: cremains will not be buried in cardboard containers unless placed in a cremation vault. Otherwise a hard urn is required.
Holiday and Overtime Burials
A Holiday/Overtime fee will be charged for burials that take place on a Federal holiday, and for burials that take place after 2:30 pm.