Welcome to Norbeck Memorial Park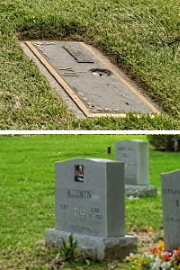 Norbeck Memorial Park is proud of our reputation for compassionate burial services for families in the greater Washington DC area. Established in 1975 in Montgomery County, Maryland; our steadfast goal remains to maintain a beautiful and meaningful perpetual resting place for loved ones of all faiths.
Bronze (above)
and upright
memorials
Memorialization
Throughout most of the cemetery, Norbeck Memorial Park requires flush-to-the-ground, bronze memorial markers which are designed to help support a park like appearance.
Upright memorial markers are also available in selected areas within Block A, as well as within all of Block U.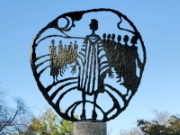 Many works of art
enhance the beauty
and symbolism of
Norbeck.
Artworks
Artworks by sculptor Phillip Ratner add beauty and meaning to Norbeck Memorial Park.
One example is The 12 Tribes shown at right.
Mr. Ratner also created our Holocaust Memorial, located adjacent to the office.
Our Ongoing Commitments
Ongoing efforts
to improve Norbeck Memorial Park include the planting of new trees and gardens, improving access, adding features such as new mausoleums (2023).
Perpetual Care
: as a perpetual care cemetery, Norbeck sets aside funds from every site sold into a large trust fund - designed to ensure a well-maintained park for future generations
Customer service
: we believe our families deserve nothing less than "good old fashioned" customer service: when you call Norbeck (during business hours) you will be greeted by a human being -
never a computer!
At Norbeck, you and your family will rest assured of the finest quality and care ... today and tomorrow.
Church Areas
Many area churches
choose Norbeck Memorial Park, for our fair pricing, adherence to religious traditions, and convenient location in Montgomery County.